After my exams, I am going to have a lot of time on my hands and as an escape from the reality of getting my results in August, I will be binge watching a lot of shows on Netflix to pass the time by. In the past I have not been the biggest TV watcher as I was always a bigger fan of documentary series or movies, but in the past two years I have been getting more into TV series and I have always had some all time favourites. Therefore, here is a list of all the TV Shows I have completed in the past and whether I recommend them or not…
Outnumbered: 🌟🌟🌟🌟🌟🌟🌟 (7/10)
Outnumbered was definitely a programme I grew up on. It was always a family favourite in my house, as I think we could all relate to at least one of the family members. It is a British family sitcom which is definitely very relatable, and the kids are hilarious. However, as the kids grew up, the show did unfortunately lose some of its original magic but series 1-3 are definitely worth the watch.
The Inbetweeners: 🌟🌟🌟🌟🌟 (5/10)
The Inbetweeners was the very first TV series I probably "binge watched" and at age 14 I don't think it was the most appropriate. This is a short British series about a group of misfit teenage boys in sixth form and in my opinion, it's alright. Yes it's funny but it's very much "teenage boy" humour and if you don't get or don't like that humour then this isn't the show for you. However, this certainly is a British teenage classic and I don't know a single person my age who hasn't seen at least an episode.
Misfits: 🌟🌟🌟🌟🌟🌟🌟🌟 (8/10)
Whenever I think of my year ten years, I always think of Misfits. I would say Misfits was the first TV show I ever properly fell in love with and to this day, it is one of my all time favourite TV shows. It is about a group of young adults on community service, who one day experience a freakstorm and all inherit these crazy superpowers as a result – therefore, the premise of the show is about how their lives are shaped because of this storm as well as the people around them. This show definitely has everything I love in a show: British humour, slight horror and a gripping plotline but it slips the ten star rating as it definitely got weaker as it continued, especially as the original main cast started to leave.
Favourite Season: 2
Favourite Characters: Nathan, Simon and Kelly
American Horror Story: 🌟🌟🌟🌟🌟🌟🌟🌟 (8/10)
I started watching American Horror Story just after Coven premiered and it was my all time favourite show for a while. The first two seasons are excellent, which are set in a haunted house and an asylum, however it does start to go downhill after that. Unfortunately the only thing I enjoyed about Coven was Stevie Nicks' cameo as I'm a massive Fleetwood Mac fan, Freak Show was brilliant until the ending, I gave up on Hotel as not even Lady Gaga could keep me watching but I did enjoy Roanoke, even though again I hated the ending (and the lack of Evan Peters and Denis O'Hare). However, this show will always be one of my favourites for its originality, the cast and definitely the first two seasons, which I would highly recommend alone. I am apprehensive about the new series as its meant to follow the US 2016 Election but I will definitely be watching.
Favourite Season: 1
Favourite Characters: Larry (Murder House), Kit Walker (Asylum) and Sister Jude (Asylum)
Catfish the TV Show: 🌟🌟🌟🌟🌟🌟🌟🌟 (8/10)
Honestly, Catfish is one of my favourite TV shows and possibly my favourite MTV show. I am quite embarrassed to admit that I've seen every single episode as it is far-fetched at times but it is interesting to see how quickly you can form an attachment to a person you have only communicated with online and overall it is an incredibly addicting show, if you just want something easy to watch. I have seen the original documentary which was alright but honestly I prefer the TV show and it is definitely something I watch on a regular basis.
Bad Education: 🌟🌟🌟🌟🌟 (5/10)
One thing's for sure about this show, if Jack Whitehall wasn't in it, this would flop. If you want a light-hearted, British teenage comedy then this could be a fun show to watch as it's set in a school with a bunch of misfits and their hopeless teacher, but honestly it is not one of my favourite British comedies as it really is nothing too original, however Jack Whitehall and Matthew Horne did make me laugh…
Orange is the New Black: 🌟🌟🌟🌟🌟🌟🌟 (7/10)
I picked up OITB just before the third season started and it pleasantly surprised me as I never thought I would like a show like it. OITB is about a woman called Piper Chapman (who is possibly my least favourite main character in TV history) who gets a lengthy prison sentence for a crime she previously committed a while ago and so the show follows her time, as well as her inmates time and the guards around them, in a woman's prison. The humour in this show is fantastic as well as the drama – especially in its latest season. I will definitely keep watching this show until the end.
Favourite season: 4
Favourite characters: Poussey, Crazy Eyes and Taystee
Some Girls:  🌟🌟🌟🌟🌟🌟🌟 (7/10)
Some girls is another British teenage comedy, about girls in sixth form, which again, is very relatable, especially going through the process myself, but is very predictable. This show certainly is fun and easy to watch but nothing too special or original, however I would say it's worth a watch, for Saz, Amber and Rocky alone.
Gossip Girl: 🌟🌟🌟🌟🌟🌟🌟 (7/10)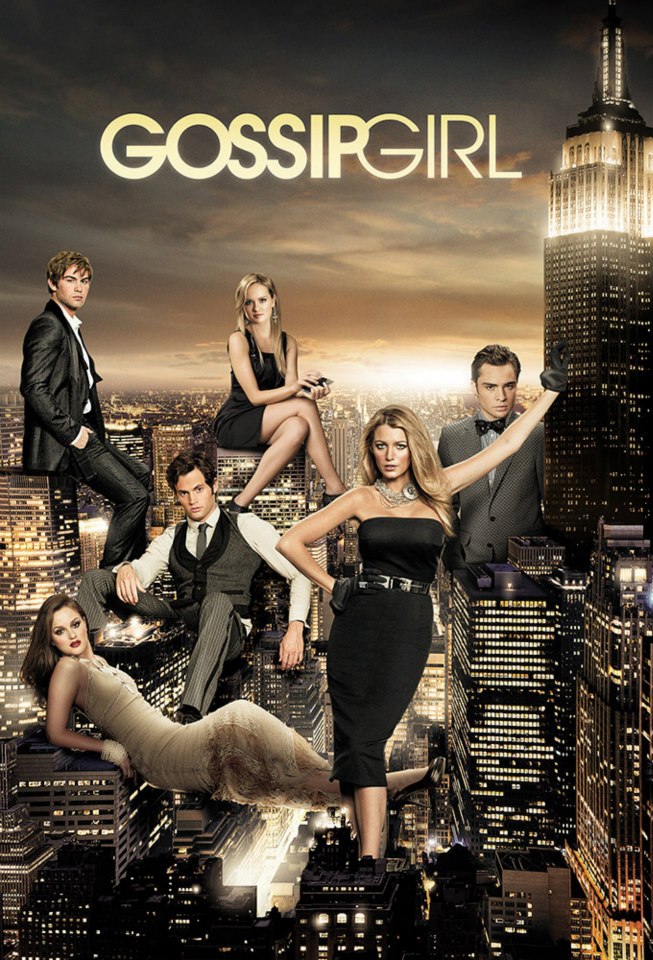 In the time I should've spent revising for my GCSEs, I instead spent binge-watching Gossip Girl, which I developed a love-hate relationship with. If one thing is certain about this show, it is highly addicting and be prepared to hate every single character at one point. Overall, this show is worth a watch for its star-studded fashion taste and its slightly cringy premise, however be prepared to also hate the ending as it definitely did not make sense..
Favourite season: they all kinda blended into one tbh
Favourite characters: Blair, Nate and Dorota
Freaks and Geeks: 🌟🌟🌟🌟🌟🌟🌟🌟🌟🌟 (10/10)
The greatest TV tragedy and one of my all time favourite TV shows, Freaks and Geeks. With a cast including a young James Franco, Seth Rogen and Busy Phillips and a heart-warming, if relatable at times 1980s storyline that appeals to everyone, including parents, Freaks and Geeks will certainly make a place in everyone's heart. It follows the lives of two very different misfit friendship groups and I guarantee you, you will definitely relate to at least one, if not both, of the groups.
Favourite Season: the first as it only has one (!)
Favourite Characters: Sam, Kim and Daniel
My Mad Fat Diary: 🌟🌟🌟🌟🌟🌟🌟 (7/10)
My Mad Fat Diary combines both emotion and light-heartedness in a show to produce one of the most original British series I've seen. It is about an overweight girl called Rae who has a history of mental illness and about how she copes in a 1990s British Sixth Form. With great characters and a great romance, My Mad Fat Diary is worth the watch.
Favourite Season: 1
Favourite Character: Archie
Skins: 🌟🌟🌟🌟🌟🌟🌟🌟🌟 (9/10)
What a surprise, another British, teen drama, but Skins is certainly the best. Perhaps the reason why this show is so well loved is because of its ability to tackle a range of topics and I'm sure everyone can relate to at least one. Over the seasons it follows three sets of teenagers, and generation one is definitely my favourite. I think Skins is something every British teen should watch at some point; however, don't bother with the American remake at all, it's shit, just watch the original, British version as it was certainly one of the best things that has been made for British screens.
Favourite Season: 2
Favourite Characters: Pandora, Chris and Effy
Bates Motel: 🌟🌟🌟🌟🌟🌟🌟🌟 (8/10)
As embarrassed I am to admit that I had never seen Psycho before watching the so-called prequel Bates Motel, I was pleasantly surprised by this show. It follows a young Norman Bates and his relationship with his mother which eventually will escalate into the movie Psycho (which I have now seen). This show definitely explores a wide range of themes including horror, suspense and even a touch of romance and I would highly recommend it as every episode will make you want to watch the next one.
Favourite Season: there wasn't a bad one so don't particularly have a favourite
Favourite Character: Dylan
Easy: 🌟🌟 (2/10)
As I love anthology series, I thought I would love this Netflix, romance show and with a cast like Orlando Bloom, Dave Franco and Emily Ratajkowski it seemed like a feel-good winner – however, I didn't like it. Altogether, I didn't grow attached to any of the stories presented and the story lines were very weak so this is definitely one to miss, especially if you're below the age of 18.
11.22.63: 🌟🌟🌟🌟🌟🌟🌟🌟🌟🌟 (10/10)
Possibly the most underrated show ever! This eight part series I adored as it explored a lot of my favourite things including  James Franco, Stephen King and the history and presidency of JFK. The premise of the show is quite confusing as it follows an ordinary man who travels back in time to prevent the assassination of JFK and is definitely a show where you need to give your full concentration. However, it is incredible, so well made, so interesting to see the history around the time period around Kennedy's tragic assassination and definitely a journey you won't forget.
Favourite Character: Bill
Stranger Things: 🌟🌟🌟🌟🌟🌟🌟🌟🌟 (9/10)
If there's a show which is worth the hype, it's Stranger Things. Stranger Things is set in a small American town, in the 1980s, where a young boy goes missing and the situation surrounding his disappearance affects everyone and is very extra-terrestrial. The writers of Stranger Things based this series on Stephen King's works, which is possibly the reason why I loved it so much as Stephen King is my favourite author, and even though it is  a little slow at times it is definitely worth a watch, especially as the child actors are sensational – I am very excited for Halloween 2017.
Favourite Character: Dustin
Black Mirror: 🌟🌟🌟🌟🌟🌟🌟🌟 (8/10)
I started watching Black Mirror when Netflix picked it up in October because I love dark anthology tv series and this show is incredibly haunting and very well done. It is written by Charlie Brooker, who I think is one of the best TV writers, and the whole premise of it is to warn the public how dangerous technology is becoming, and how it will eventually shape everyone's life, not always in the best way. My favourite episodes are White Bear, Shut Up and Dance and San Junipero, as they definitely stayed with me when I stopped watching. However, with this show I either love the episodes or I couldn't get into them and had to give up on a certain episode so therefore Black Mirror is not my favourite anthology series.
American Crime Story: 🌟🌟🌟🌟🌟🌟🌟🌟 (8/10)
I had been wanting to watch American Crime Story for a long time before I actually watched it, when it became available for Netflix and it didn't disappoint me. Even though it is a little bit slow, I thought it was very interesting, incredibly well done and Sarah Paulson as Marcia Clark was amazing. The premise of American Crime Story is to follow a famous American crime and the events that follow around it, and the only season out now is The People V OJ Simpson, which I did thoroughly enjoy and it did bring me to tears at the end.
Crazy Ex Girlfriend: 🌟🌟🌟🌟🌟🌟🌟🌟🌟 (9/10)
To this day I am still obsessed with Crazy Ex-Girlfriend. It is the most refreshing, funny and relatable show I have seen in a long time and Rachel Bloom is amazing, hence why she won a Golden Globe for her role as Rebecca Bunch. This show follows an unstable woman who gives up an amazing job in New York in order to move to West Covina, California to follow her ex-boyfriend from Summer Camp and about her attempts to try and get him to love her. This show is a dark romantic MUSICAL (!!) comedy which is hilarious and so well written and yes this show is a bit of a cringe-fest but I adore this series, even though my favourite character left the show, and I can't wait for it to come back. The soundtrack to this show has also become an all time favourite of mine and I definitely listen to it on an everyday basis.
Favourite Season: 1
Favourite Character: Greg 😦
Pride and Prejudice: 🌟🌟🌟🌟🌟🌟🌟 (7/10)
After my mum's horror of finding out I had only ever seen the Keira Knightly version, she immediately made me watch this and I am very glad she did. This TV series/adaption is definitely better than the film, especially Colin Firth as Mr Darcy who is one of my favourite actors, and even though it is a little slow it is a very heart-warming take on the classic, British story.
Inside No.9: 🌟🌟🌟🌟🌟🌟🌟🌟🌟 (9/10)
I had no idea what this show was before I clicked on it on Netflix, apart from it was a dark anthology series which I love, and I am so glad it did. It is my favourite anthology series of all time, nearly every episode shocks me and the episodes Sardines, Tom and Gerri, La Couchette, the 12 Days of Christine, Cold Comfort and The Devil at Christmas kept me up at night. This show also has an all star British cast including Luke Pasqualino, Gemma Arterton, Mark Benton, Jack Whitehall and Sheridan Smith to name a few and I guarantee at least one episode will leave you shaken.
The Santa Clarita Diet: 🌟🌟🌟 (3/10)
Unfortunately, I was so disappointed with this show after being excited by the teaser trailers. This show follows a normal, suburban family whose life gets turned upside down by their mother becoming a zombie and even though I did finish the first season, I didn't enjoy it really. It had a lot of potential but quickly became very predictable and I didn't grow to love any of the characters, so therefore I will not be watching it when the second series comes out.
13 Reasons Why: 🌟🌟🌟🌟🌟🌟 (6/10)
I was very hesitant to start watching this show, after not loving the book but after I saw all the hype on social media, I had to start watching. I am not going to get into the whole stigma surrounding this show as it is very controversial, but I do not believe it is an accurate, realistic portrayal of mental illness. If you are easily triggered please do not watch this show, as even I had to skip "the scene" in the last episode, however, if you can handle the topics included in this show it is worth a watch as the cast is fantastic. I am interested to see where the show will go in the second season even though I don't think it was necessary to pick it up for a second series.
Favourite Character: Tony
Riverdale: 🌟🌟🌟🌟🌟🌟🌟🌟 (8/10)
I took such a long time starting this show as I'm embarrassed to admit I didn't want to give into the hype and I am not a comic book fan; however, I binge watched this whole show in two days before the finale, and I am so glad I did. Don't be put off by the fact that this show was based on a comic series, as it definitely has no relation to it apart from the same characters, and it is very gripping. It follows the teenage characters of the town Riverdale, who get affected by the murder of one of their classmates and take it into their own hands to solve the murder. This show also has romance and family issues within it, and even though to me the killer was very predictable, I loved the cast and the stories inside.
Favourite Character: Jughead
Gilmore Girls: 🌟🌟🌟🌟🌟🌟🌟🌟🌟🌟 (10/10)
I cannot put into words how I much I adored Gilmore Girls as I picked it up last year and took two months to finish it – it is now my all time favourite TV show. It follows a mother called Lorelai and her daughter Rory of whom she gave birth to at sixteen and their lives surrounding romance (team Jess!), work and family issues and it is honestly so heart-warming, I would love to live in Stars Hollow. My favourite characters are Lorelai, Paris, Kirk and Luke and yes, I did cry my eyes out at the finale of the revival series, and I would love them to make a sequel to the revival.
Favourite Season: 3
Favourite Characters: Lorelai, Luke, Kirk and Paris
 So there is a list of all the series I have seen all the episodes of, as to now, and my TV watch-list is a mile long and hopefully by the end of the summer, my TV knowledge will have grown. There are a few shows I did start which I gave up on, which weren't my thing and honestly don't recommend which are Jane the Virgin, The OA, Scream, Parks and Recreation (sorry), The Crown, Making a Murderer (surprising I know) and Scream Queens. I have also seen every modern Doctor Who up to the second Matt Smith series and I loved it up until then as I did not like Matt Smith, the new doctor or the story writing anymore 😦